Harper Map
---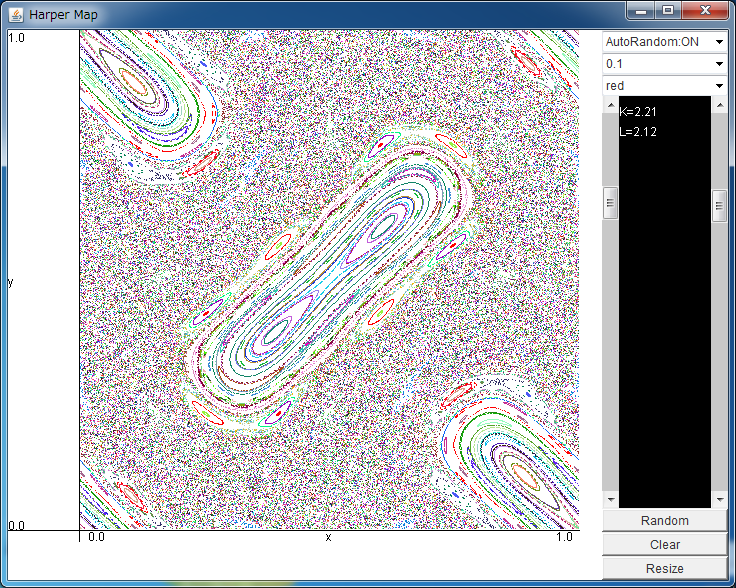 After downloading
harper.jar
, please execute it by double-clicking, or typing "java -jar harper.jar".
By clicking your mouse, you can set the initial value of a time evolution.
By dragging your mouse, you can expand the field.
If the above application does not start, please install OpenJDK from
adoptium.net
.
---
In this page, we treat the Harper map written as

xn+1 = xn + (K/2π) sin (2π yn) modulo 1
yn+1 = yn - (L/2π) sin (2π xn+1) modulo 1.

Like the Standard map, the determinant of the Jacobian matrix of this map takes one, thus the area of the phase space is preserved. The parameters K and L denote the strength of the nonlinearity.

This model is obtained from the Hamiltonian of a Bloch electron in the presence of a magnetic field and subject to an alternating electromagnetic field.
Applying the same Hamiltonian to the Schrödinger equation, the relation with quantum chaos is also discussed.

By increasing the nonlinear parameters K and L, the surviving tori are destructed, and the chaotic time evolutions are observed.
For example, with K=L=5.0, islands of tori are invisible.

However, with particular values of K and L (e.g., K=L=6.34), the new tori are created by a bifurcation.
This tori are called as accelerator tori and cause the anomalous diffusion of the observables.

The accelerator tori and the anomalous diffusion are also observed in Standard map.
---